Kentucky Gun Control Legislators + Rally Photos!
First things first: not only have Kentucky gun control legislators introduced SB 121, the Senate bill mentioned yesterday, but House legislators have introduced another five gun control bills there. FIVE. Does "shall not be infringed" have some scholarly wiggle room not obvious to the naked eye?
SB121: Kentucky Gun Control Legislators in the Senate Don't Hold Back
According to the NRA, if SB 121 (sponsored by K. Stein) were to pass, you will be:
Nor Do Kentucky Gun Control Legislators in the House with Five Bills:
They just can't sit on our rights fast enough... as if they had the authority to do it in the first place (they don't). If they read their constitutions, they'd know they don't. Free copies downstairs at the LRC office, guys. Not to mention online.
Here are the offending House bills [NOTE: There may be other offending Senate bills, double-checking that now]:
Wait -- There's Hope: The Kentucky General Assembly Uses the Word "Nullify" in a Bill!
HJ 33 -- Whoa. Is this a bright spot in an otherwise dismal line-up of gun control bills? According to the summary, this bill will:
"Nullify all federal legislation, regulation, rules, and orders in violation of the Second Amendment to the Constitution of the United States; require the General Assembly to enact all measures necessary to prevent the enforcement of any federal legislation, regulation, rules, and orders in violation of the Second Amendment to the Constitution of the United States; and allow Resolution to be cited as the Second Amendment Preservation Act."
Sponsored by K. Imes, L. Bechler, R. Benvenuti III, J. Carney, J. DeCesare, M. Dossett, C. Embry Jr., D. Floyd, R. Heath, T. Herald, K. King,A. Koenig, S. Lee, B. Linder, D. Meade, B. Montell, T. Moore, R. Quarles, M. Rader, B. Rowland, S. Rudy, S. Santoro, J. Shell, D. St. Onge, F. Steele, T. Turner, B. Waide, R. Webber, A. Wuchner, J. York.
If this bill is what it looks like at first reading, there is genuine hope for Kentucky. It's possible we may not be 20 years behind the rest of the planet for much longer.
Replace Kentucky Gun Control Legislators in 2014:
Um, pretty much everybody but the last batch. We'll be watching how our trusted servants vote this year and keeping score. Please help by reporting what you see. Thank you!
Kentucky 2nd Amendment Rally: Freezing Temps? No Problem!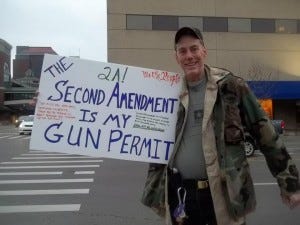 Despite FREEZING cold temperatures (literally), there was a decent sized turnout for the Kentucky 2nd Amendment rally last night in downtown Lexington.
We were at Triangle Park in front of Rupp Arena -- busy, busy intersection with plenty of honking, smiling and thumbs ups from the drivers! It was sweet.
Will Mallard reports:

There was a 2nd amendment/Anti-Gun Control rally in Lexington KY today. Although it was extremely cold, about 40 - 50 people came out to speak up for the rights of all.

In attendance was Jackson County Sheriff Denny Peyman who is the Sheriff who said, "My office will not comply with any federal action which violates the United States Constitution or the Kentucky Constitution which I swore to uphold."

He brought signs with him for all.

What a great guy, only we will all have to pitch in and get him a hat to keep his head warm.

He spoke and I recorded it and will post the video soon. Watch for it! [Will be posted here, as well.]

Support the 2nd Amendment! Call your congressman, your state senator and state rep and tell them to support the 2nd Amendment! Because without the 2nd, all the others are useless!

Not one reporter from the Biased Liberal Media showed up to cover the story so click here to see the Facebook Photos!
Frank is putting together the next 2nd Amendment rally now! Details soon!!