Discover more from KY Stands Up
Join us! 1) End medical tyranny. ALL of it. 2) Replace RINO/DINOs.
Over 2,000 subscribers
Kentucky Obamacare: David (Adams) vs. Goliath (Beshear)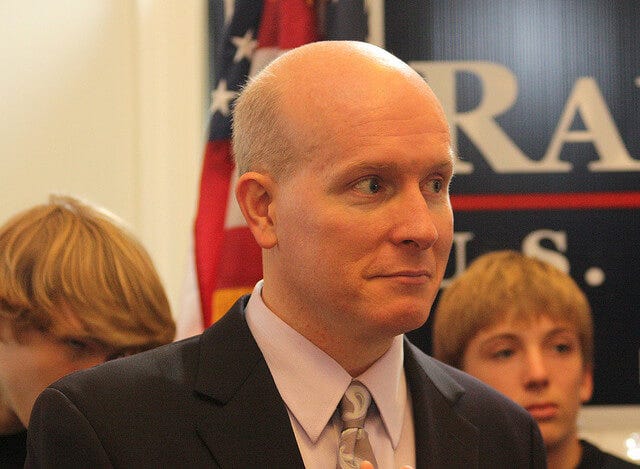 Our friend David Adams is suing Governor Steve Beshear over at least four different misappropriations of authority and tax payer funds related to Kentucky Obamacare. You can follow David's endeavors here. So far, so good. Beshear, of course, acts like he doesn't know he's being sued or who David is. But he does know. Beshear's lawyer in that $4,000 suit knows it, too. That is satisfying all by itself. The fact that David is shining a spotlight on this administration's complete and utter lack of regard for the Kentucky Constitution is icing on the cake. Thank you, David! Here's a taste of David's work:
COMMONWEALTH OF KENTUCKY IJC ON APPROPRIATIONS AND REVENUE AUGUST 22, 2013

DAVID ADAMS, PLAINTIFF v. COMMONWEALTH OF KENTUCKY, et al., DEFENDANTS

ORDER

     The matter before all Kentuckians today is government's proper role in the economy. On this, the Constitution is very clear. Section 177 of the Constitution of the Commonwealth of Kentucky reads: "The credit of the Commonwealth shall not be given, pledged or loaned to any individual, company, corporation or association, municipality, or political subdivision of the State; nor shall the Commonwealth become an owner or stockholder in, nor make donation to, any company, association or corporation; nor shall the Commonwealth construct a railroad or other highway."

The purpose of this meeting is to invent new and more expensive ways in which to violate this section to the detriment of the citizens of the Commonwealth of Kentucky. State officials have constitutional responsibilities the people have not seen fit to expand. We should not have to beg you to follow the rules spelled out in the Constitution. Stop it now. Respectfully submitted, David Adams
Yes, please, "stop it now"! Stay tuned to David Adams. There's much, much more where that came from and Kentucky will be better for it.