Discover more from KY Stands Up
Join us! 1) End medical tyranny. ALL of it. 2) Replace RINO/DINOs.
Over 2,000 subscribers
USDA Census | Animal Tagging | Hemp for Victory | LFUCG Animal Ban? | FFF News
USDA Census
Over the last couple of weeks, KY farmers (and, we presume, farmers in all states) received a USDA census form to fill out detailing your farm's possessions, income and activities. Farmers we spoke to are in two camps on this:
Camp #1: All the farmers except one with whom we spoke said, "No way. It's going in the trash." The prevailing sentiment is that, if the government is counting something, it's because it wants to find a way to control it. Or own it. History certainly backs up this concern.
Camp #2: One farmer pointed out that the USDA is asking because it needs to go to the federal government and ask for money for farmers. Without information from the census, it can't get the money. Consequently, USDA offices are closing in poorer areas of the country.
Are you filling it out and sending it in? Is your farm dependent on USDA assistance? Is the USDA helpful to you or not helpful?
Animal Tagging (was known as "NAIS")
At last Thursday's Ag Committee meeting, I heard Dr. Stout, KY state vet, report on the progress of his tagging of animals in KY (he tags animals whether those animals are set for interstate commerce or not.) He was in front of the Ag Committee to ask for money to continue his work. Tim @ the CFA wrote a comprehensive article on this topic last August. You can read it here.
If you are good with the tagging of all KY cattle and, eventually, all KY farm animals, no need for action. If you are not, let the Kentucky Agriculture Committee know. You don't have to call each Senator individually; just call 800-372-7181 and tell the operator that you want to leave a message for all members of the Ag Committee. Phone calls have more effect than emails. Doing both works even better.
Kentucky Hemp for Victory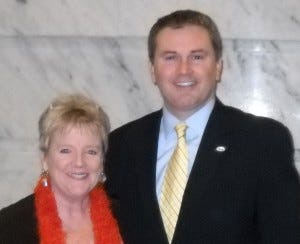 Last week, Jamie Comer held a press conference in Frankfort re. legalizing hemp in KY. The first state to legalize hemp wins the race and wins BIG: we will be the leader in industrial hemp. Hemp manufacturing plants will come to KY first, meaning more jobs in KY and more money to farmers. To support hemp in KY, please call the bill's sponsors (at the links below) and let them know you are in favor. Huge thanks to Rep. Henderson and Sen. Pendleton for sponsoring these bills.
Extra special thanks to Craig Lee for his tireless work on behalf of hemp farming in KY.
KY Hemp bills are HB House Bill 286 and Senate Bill 41. In order to actually grow hemp here (without getting into a 10th Amendment fight with the feds), we need Ron Paul's Industrial Hemp HR 1831 to pass in Congress. Please let your U.S. House rep know you support this as well. You can find more info re. hemp @ VoteHemp.com. Also, Take Back Kentucky has a good article here.
LFUCG Animal Ordinance
This Tuesday 1/24/12 @ 1:30pm, the LFUCG Planning and Public Works Committee will meet in Council Chambers on the 2d floor of the Government Center to talk about the revised animal ordinance.
When we first read Councilman Kay's post, it looked like the ordinance was actually banning horses, hogs, pigs, and goats in areas not zoned agricultural. (Banning horses was definitely a new addition to the ordinance already on the books and has been removed.)
When I asked about it, Councilman Kay's office informed me that hogs, pigs and goats are already banned by Ch. 4, Art. I, Sec. 4-11 (found here. : http://library.municode.com/index.aspx?clientId=11163). This meeting is to revise the current ordinance to ALLOW miniature versions of these animals, full text of revised ordinance here. We wholeheartedly support any and all giving back of property rights!!! Thank you to Steve Kay and the LFUCG for this.
If you'd like to attend the meeting,  you can download a copy of the packet at www.lexingtonky.gov/Modules/ShowDocument.aspx?documentid=18977.
Misc News:
Food Sovereignty in Maine: http://www.thecompletepatient.com/journal/2011/3/7/heres-a-way-to-eliminate-the-regulators-and-lawyers-and-buil.html. Wouldn't we love something like this in KY???
Of course, our right to privately contract is already protected by the KY State Constitution: Section 19 (1): No ex post facto law, nor any law impairing the obligation of contracts, shall be enacted. [http://www.lrc.ky.gov/legresou/constitu/019.htm] But it couldn't hurt to re-affirm this, eh?
What's happening in your area? If you have FarmFoodFreedom news to share, please let us know asap! Have a great week!